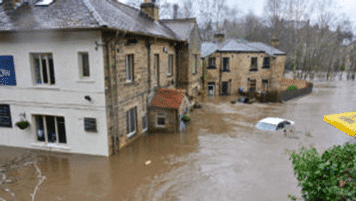 During the summers and early fall, it feels like flash flood warnings are announced every few days. They pop up on our phones, voice assistants, and local TV and radio stations. In the past, it was easy to dismiss these alerts as almost a minor nuisance. After the recent flooding and destruction caused by Hurricane Ida, those warnings are not so easily dismissed.
When Hurricane Ida swept through New Jersey and Manhattan, FloodCo USA was there to help our friends and neighbors. For days and weeks, we were there to remove harmful floodwaters, dry basements, and rooms, and restore homes, apartments, and workplaces to their pre-flood conditions.
While we are prepared to assist with the after-effects of floods, we can't help prepare homes and businesses for impending emergencies.
To help prepare your household and business for future flood emergencies, we've compiled this list of tips that can make a difference.
Install or Upgrade a Sump Pump
Sump pumps are a vital part of protecting your home or business from floodwaters. Typically housed in a pit or basin located in a basement floor, these hardworking pumps are designed to remove water from your basement and discharge it into a nearby drain, dry well, or waterbed. Using its built-in valves, the sump pump goes to work when it senses rising water levels or increased pressure.
One drawback to sump pumps is that they need a constant power supply to operate. If a storm knocks out power to a neighborhood, then sump pumps that are connected to a home or business's electrical supply will not work. That's why it's a good idea to upgrade an existing sump pump to one with a battery backup feature. If the power goes out, the battery will activate to ensure pumping continues uninterrupted until direct power is restored.
Install Backflow Valves
Basements and ground floors aren't the only areas at risk from floods. Other parts of a home or business can be devastated by backed-up sewer and storm drains. When this happens, sewage may force its way into bathtubs, toilets, sinks, and appliances like washing machines and dishwashers. When that happens, the sewage overflows into your kitchens, bathrooms, powder rooms, and basements.
For areas that are prone to flooding, backflow valves or backwater check valves help protect homes and businesses from possible sewage backups. The sewer lines for many newer homes and buildings are already equipped with these valves, but owners of older properties may want to contact a local plumber about installing these vital flood prevention tools.
Fasten Fuel Tanks
One of the biggest dangers of flooding is often one of the most overlooked: Unsecure fuel tanks. From exterior propane tanks to interior home heating oil tanks, these containers can be ripped from their stands and tossed around. When that happens oil and gas leaks may occur putting lives at risk. If a spark hits any leaking gas or oil, it can cause a fire or an explosion.
To keep tanks in place during a flood, they should be secured with water-resistant straps. To further assist with any potential fuel or gas leaks, ask your fuel supplier to supply you with the required caps and plugs to prevent water from entering any open or exposed valves or vents.
Move Your Valuables
Floods not only wreck properties that can also destroy other valuables, too. If time allows, move your valuables to higher ground on the second floor. Store certificates, licenses, and other important documents in a waterproof safe. But remember, furniture, appliances, and even licenses and certificates can be replaced. People cannot. Always put the safety of yourself and others first.
Prepare an Emergency Kit
If a storm is coming and flooding seems likely, you'll want to have an emergency kit at hand. Each kit should contain the following essentials you'll need to weather the storm:
Non-perishable food and drinking water to last every member of your household or workplace for at least three days.
Flashlights for every person and fresh spare batteries for each flashlight
Cell phones, chargers, and emergency chargers
A portable radio with fresh spare batteries
Any necessary medication along with aspirin, ibuprofen, and a first aid kit
Change of clothes for every member of the household or workplace
An emergency contact list
Flood Insurance
Even if your home or business has never experienced a flood, purchasing flood insurance is essential. To learn more about this supplemental insurance option, we recommend reading our detailed overview of flood insurance.
By following the tips outlined above, you'll be better prepared for future flooding emergencies. We hope that you'll never experience the effects of severe flooding. However, if a flood emergency does affect your property, know that FloodCo USA is just a phone call away.
Contact FloodCo USA for your residential or commercial flood water damage restoration needs.