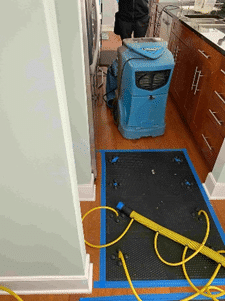 Now that winter is over, it's almost time to go outside and enjoy the splendor of the spring and summer seasons!
We say "almost time" because you can't really enjoy these seasons until you've properly protected your home from the dangers of potential flooding and water damage.
Before you spend the weekends relaxing in the backyard or on the deck, it's best to spend some time preparing your home for spring and summer storms.
Here are some handy tips to help accomplish this goal!
Water Damage Prevention Tip #1: Inspect Your Roof
Did you make it through another winter without any roof leaks or damage? While you may not have seen any visible leaks or areas of water damage in your floors and ceilings, that doesn't mean that potential problems do not exist.
To make sure there is no damage to your roof (or issues that could soon lead to water damage), it's always a good idea to inspect your roof. While you may have a ladder and are not afraid of heights, it's always best to contact a roofing expert to inspect your home.
They're not only trained to spot the visible dangers, they can also spot the impending issues, too.
It's best to spot these issues now and resolve them before the summer storms arrive and you have a serious problem on your hands.
Water Damage Prevention Tip #2: Look For Foundation Cracks
Snow and ice do more than make roads and surfaces dangerous for travel. They can also wreak havoc on homes and businesses. Even if the winter was fairly mild, snow and ice can add to underlying property issues that have developed over time. One such issue is foundation cracks.
Cracked or damaged foundations allow water and moisture to enter the house. These cracks not only lead to water damage and mold growth, they can also weaken the foundation and cause structural damage.
To make sure your foundation is damage-free, it's best to inspect it in the early spring. Telltale signs of foundation damage are visible cracks, breaks and chipping, stains and discoloration, and musty smells.
If you suspect that your foundation is cracked or damaged, call a foundation repair specialist to determine if the issue is minor or major. They may also recommend taking additional steps to minimize future foundation damage by replacing the soil around the foundation or installing a new drainage system (such as a French drain).
Water Damage Prevention Tip #3: Replace Caulk and Weatherstripping
Air leaking in and out of door and window seams does more than make your home drafty or warm and raise your energy bills – it also allows moisture to enter your property. When that happens, you can expect water damage along with mold.
Luckily, the solution to this problem is fairly easy. During dry spring days, it's best to fill these gaps with caulk and weatherstripping. Even if you added these elements to your home several years ago, odds are they're worn and frayed. Inspect all of your exterior doors and windows to ensure that the existing caulk and weatherstripping is still in good condition. If not, you should remove and replace them with fresh caulk and weatherstripping.
Water Damage Prevention Tip #4: Grade Your Yard
If your home has previously experienced water damage and your foundation is strong, you may benefit from yard grading. If your yard is flat or sloped toward your property, then the water and moisture will either pool near your home (and breed mosquitos and other pests) or flood it.
Essentially, you'll want to ensure that your yard is sloped in a way that water is traveling away from your property to prevent it from entering your home and weakening its foundation. Grading makes that possible.
If your yard just needs to be elevated and sloped slightly, you and some friendly neighbors may be able to successfully complete this project on a dry weekend. However, if your lawn grading involves relocating pipes or installing additional drainage, you'll want to consider using a certified specialist.
Water Damage Prevention Tip #5: Reseal Your Driveway
Driveways really take a beating over the years. They are subject to damage from nature's elements, oil and fluid leaks and simple day-to-day use. Over time, they develop cracks and breaks. That damage allows water to flow into the ground beneath it – and potentially into your home.
To prevent this from happening, it's always best to spend some time during the spring patching or filling in those cracks and applying a fresh coat of sealant to your driveway. This project can be done on a weekend afternoon with products that are available from most local hardware stores. If the damage is more extensive than a few cracks, you may need to consult a driveway repair expert.
By following these steps above, you'll significantly reduce the risk of water damage to your property. Do be aware that no property is truly flood- or water damage-proof. Nature does as it pleases and sometimes no amount of preparation can prevent it from damaging your property. If you experience water damage this spring or summer, contact FloodCo USA – The leading experts in flood mitigation: water removal, property dry outs and hardwood floor repair.